Highlights from BGen Stephen Williams' talk to the AFAQBC on 10 Dec 2014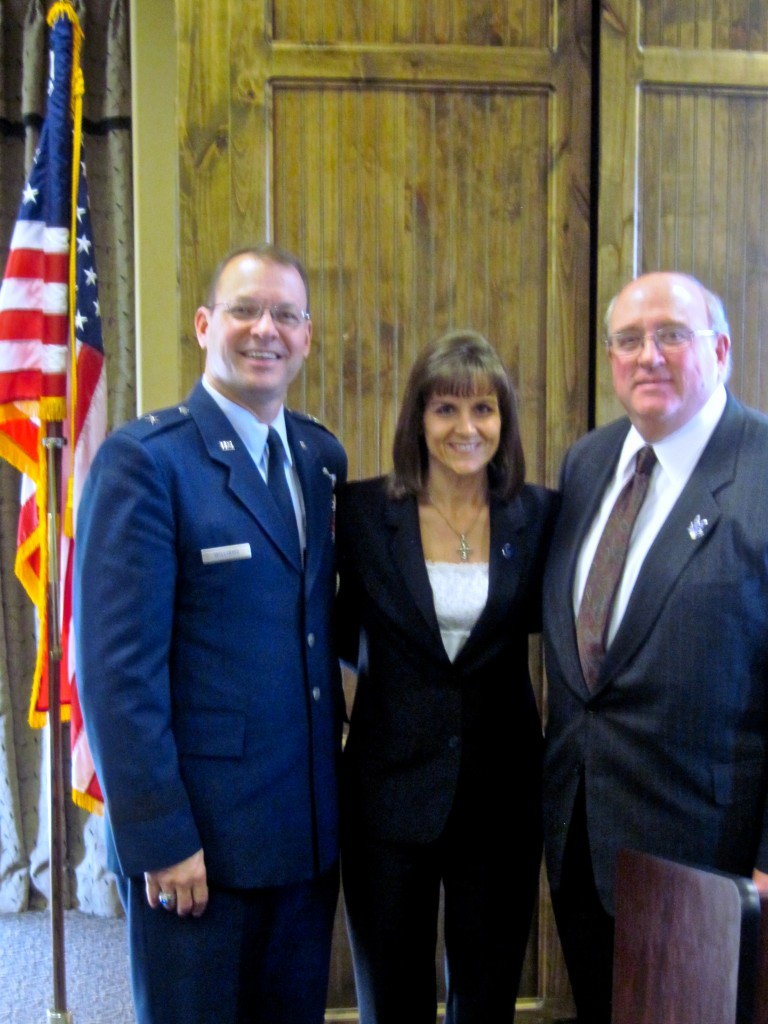 It is truly an honor to thank the QBC for what you do for your Academy to help grow future leaders.
Football season
The Academy is much better today than when I graduated in 1989. My hat is off to classmate Troy Calhoun for taking last year's 2/10 record to this year's 9/3 – how did that happen? The loss to Wyoming in the last 90 seconds had a major effect on the team. The team was very upset about the loss, but they didn't sit there and point fingers – they said, "we're way better than this, and it's not going to happen again."
The loss propelled a winning attitude, and helped them grow as leaders and as a team. The CSU game exemplified the season: it took a stop by the defense, a key play by the offense, and a field goal by the special teams, all working together to earn that major upset victory.
We have firsties that will forever say they were in a bowl game in their graduating year – it's about them. Any bowl game is a good bowl game – doesn't matter where it is, we're going to showcase our talent. I'm really proud of the team.
Class of 2018 Statistics
average HS GPA 3.9 – 20% perfect 4.0
9% perfect ACT score in at least 1 category
82% lettered in athletics – 22% recruited as Division I athletes
Many in this class have never failed at anything – AFA challenge is to help them learn how to deal with failure – sometimes when they fail and recover, they skyrocket. It's OK to stumble and fall, figure out what went wrong, pick yourself up, dust yourself off, and go back up that mountain.
USAFA Update
Class of 2014 – ½ in rated career field (pilot, air battle managers, combat systems operators, and RPA pilots – remotely piloted aircraft) – ½ in non-rated fields – typical of past years – 100 went to graduate school – 1 Marshall scholarship – great graduating class.
Significant changes were made in training the class of 2018. I came in with them and went through Basic Cadet Training (BCT) with them – 1284 got off the bus – a few didn't get off the bus. When I went through basic, it was about all the classes training the basics – it was them and us. It's very different now – the first class is being evaluated on how they run BCT, and how they're teaching the new 2-degrees to support the leadership plan. Major focus is to train the basic cadets to make them better.
Example of a Class of 2015 leadership decision: decided to break the record for a chain pushup – Marines had the record of 138 – one squadron practiced with 175, but was not documented. They lined up a chain of over 1000 people, and had a person up front yelling up/down… for 3 reps – sound didn't travel to entire group, so they weren't in synch – didn't get the world record – great idea, didn't work in execution, good lesson in teamwork
BCT was very physical, but different – the Class of 2015 went through it with them – leadership by example. It built a camaraderie and level of respect between 2018 and 2015.
BCT Commander was Cadet Peeler – I call him Patton. My first encounter was sitting with the basics watching him on stage walking back and forth talking to the basics – they were in awe of this great leader talking to them. I realized that he is not even a 2nd Lt, and he's up there leading over 1000 people.
I asked the Basics: do you realize that Cadet Peeler was in your seat 3 years ago? Which one of you is going to be the Cadet Peeler talking to 1000 Basics in 3 years? Their reaction was "that can't be me" – yes it can – that's what happens at the AFA – you have the opportunity to develop into that kind of leader in 3 years – they pictured that.
During sequestration, LGen Johnson had to define the essence of AFA.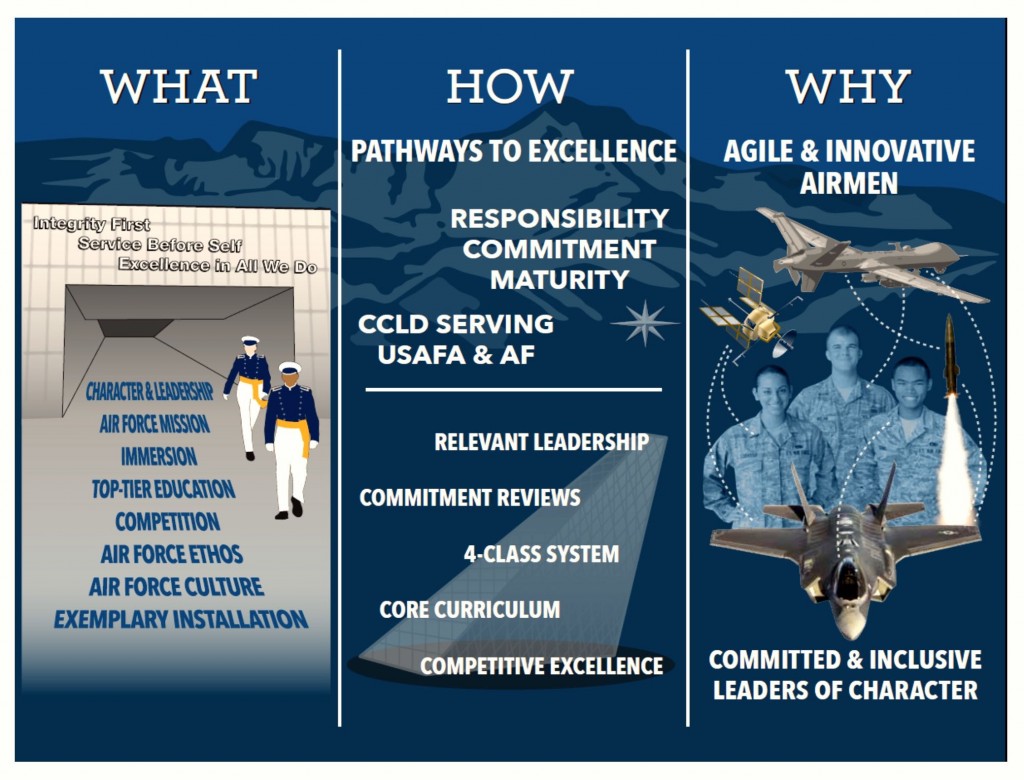 WHAT
Character & leadership – drinking the water of leadership – practicing, not just in class – OK not to get it right – learn more from failures than successes [e.g., learned more from a football game defeat than from a victory]: when they trip and fall, pick 'em up, dust 'em off, show them where they went wrong, move 'em out
AF mission – air, space and cyberspace – very prevalent missions – focus on modern warfare
Immersion – full immersion in the academy experience – military, athletic, academic & character development – can't have one without the other – e.g., many play IC sports and are also in command & leadership positions
Top-tier education – based on science, technology, engineering and math (STEM), but academy builds leaders who lead people – need a humanities side – must strike a balance to train leaders to lead people
Competition – at all levels – striving for excellence – sportsmanship. Look at sportsmanship awards – for example, a 2014 AFA hammer-throw athlete was competing to qualify for nationals. He questioned the measurement of his throw – said "no way" I threw it that far, and asked to re-measure. The first measurement was wrong – he didn't qualify, but he did the right thing – won Sportsman of the Year for track/field
AF Ethos – balance tradition and values to build a person dedicated to the profession of arms
AF culture – don't forget permanent party, the folks who are in front of Cadets every day – they present the example that we want to instill. "You can't blame the apple for rotting if the barrel holding the apples has mold in it." Need to maintain strong foundation in permanent party.
Exemplary installation – AFA is an academic school, a military institution, an AF base, a sporting venue, and a tourist attraction – must manage under current security constraints
WHY – develop committed & inclusive leaders of character
HOW
Relevant leadership – giving cadets more freedom – firsties have unlimited passes to leave during the week if not on probation. What happened – when 4-degrees get a pass (football victory), firsties have too many responsibilities to go out, so they loan their cars to 4-degrees. When you strike a balance between having a responsibility and deciding whether to go out, you've "figured it out" – prepares them to decide in the real AF between their responsibilities and what they might want to do – they're learning about how to rack & stack priorities much sooner than before
Commitment reviews – previously the cadet decided whether to commit after 3-degree year to stay or pay. AFA now makes the decision whether they are invited to commit. Under-performers are put on probation – if they don't perform, they're not invited to commitment.
4th class system – new approach: 3-degrees mentor a 4-degree person to help them develop; 2-degrees learn to lead small teams fairly and equitably; firsties learn organizational leadership to collectively command & control 4000 cadets
Core curriculum –104 credits emphasizing STEM, but adding more emphasis on humanities
Competitive excellence – changed the program to better balance intramurals with competitive clubs: divided year into 3 seasons – intramurals required in 1 season, but more condensed – 2 games in each period. It's now more about camaraderie and working together than winning the game.
I tell alumni that it's easier today than when you went through. But relative to your peers, it's just as hard. Cadets today have the same number of challenges, but they're different challenges.
I'm proud of Cadets' development as leaders – they'll know more about the AF going in than we did.
AF Mackay Trophy
Awarded in 2007 to Panther One One Flight, Pacific Air Forces, on which LtCol Williams was one of 4 pilots who flew the mission. The Mackay Trophy is an annual AF award for "the most meritorious flight of the year."
See the citation description here: https://naa.aero/awards/awards-and-trophies/mackay-trophy/mackay-2000-2009-winners
I was given a few hours to plan a secret mission to fly 4 F-16s with first-time-used ordinance, over 2,100 miles from Iraq to Afghanistan, taking off the next day. It was a secret and unusual strategic strike mission for an F-16. The biggest challenge was finding tankers when the air controllers didn't know the mission was flying – tanker crews kept asking "who are you guys?" It was like flying NY-LA to make a 2-min time-over-target window, and fly back – nearly 12 hours for 2 minutes of excitement.
Q&A – selected questions
Do you still fly the F-16? No, but I'm getting checked out in T-53 to teach cadets – an important mission
In the past, new commandants have frequently changed procedures when they took command; do you have a process now to keep some consistency between commandants? It starts with a personal relationship between incoming and outgoing Commandant – there's not anything formal in place. I've resisted changing policies unless there was a really good reason – sometimes it causes more turmoil to change a policy, but its OK to examine a policy and improve its execution in a controlled way.
Followup – last year, Gen Lengyel mentioned problems with cadets running the Wing? Permanent staff needed to train cadets to lead – give them the toolsets – e.g. don't throw a person into the fire with no training. In 3-degree year, train them for responsibilities they'll apply in their 2-degree year before they assume a job. The best example: soaring – when cadets are formally trained to lead, they're phenomenal.
Any changes planned to integrate the new Center for Character and Leadership Development (CCLD) this year? Internally, the programs are there and we're doing a pretty good job – both cadets and permanent party, who are setting the examples for cadets. Focus is on teaching them all core values. The goal is to have everybody at same level of understanding to effectively teach cadets what they need to know to do a job. We employ the PITO model – personal, interpersonal, team and organizational.

4-degree: personal – find out what you're about – learn your personal values.
3-degree: interpersonal – a 3-degree coaches one or two 4-degrees to help them find themselves without pushing your values on them – let them grow, but help guide them.
2-degree: it's the team – how to be fair and equitable leading 10-15 people with different skills, personalities and needs.
1-degree: manage the organization

We already have courses for each level – the process is set. We're integrating those concepts into academics and athletics so you're "drinking the water of leadership", not just sitting through a class.
The piece we're going to work hard on is the external piece – the new facility is the Air Force's CCLD – how do we turn it into something that benefits the AF, not just AFA?
You may read in the paper about cadets doing bad stuff – only 1% is involved in discipline problems – can't get to 0 – but very close. When we find things wrong, we address them, and also work to prevent them. When cadets own the process, they hold themselves accountable much better – keeping each other from doing stupid stuff that takes "their" organization down – they have skin in the game.