Highlights from Col. Lamberth's talk to the QBC on 13 Nov 2014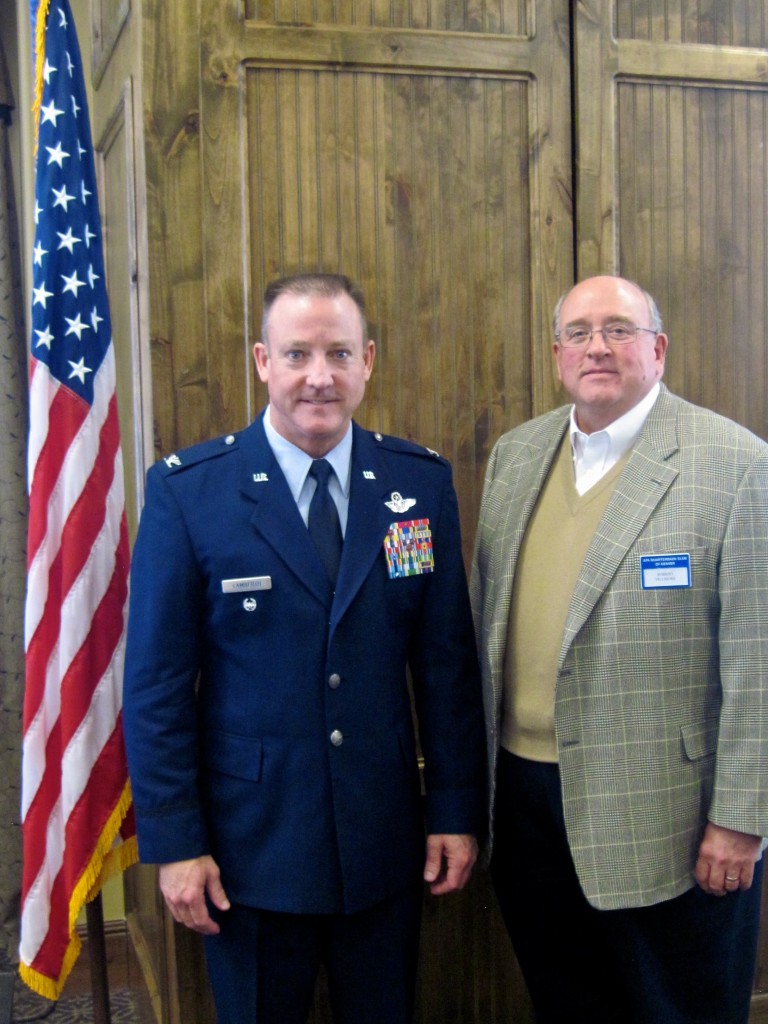 Thank you
LGen Johnson [Superintendent] says "hi". I'm still the "new guy" – in the job for 3 ½ months – so LGen Johnson told me to "be yourself and don't screw it up."
Thanks for having me here today to speak to you. This QBC has been around what, 6 decades now – you were even here before we had a football field to play on. We do appreciate the support you provide to our Academy – and that goes for those who came before you. On behalf of the USAFA, thank you for what you do for all of us.
About Me
I'm not an academy grad. I'm prior enlisted, started my career as an intelligence specialist. After 5 years, I completed my ROTC at U of TX (Arlington), was commissioned, and served as an air traffic control officer for a short time – can you imagine me with my accent controlling a bunch of airplanes? The AF couldn't either – they said, "we can't let you do this for very long", so they sent me to pilot training at Laughlin AFB. Over the last 23 years I've had the absolute pleasure of flying C-141s, KC10s and KC-135s.
With that background you could imagine my reaction when I was notified of the assignment to be Vice Superintendent at the AFA. My first word was "huh?" – AFA – really – where the heck did that come from? I went back to the AF and asked, "realize that I don't have the typical Academy pedigree – are you sure?" LGen Johnson hired me to bring a degree of diversity – someone who didn't think like her, didn't look like her, and I will tell you I'm not her.
I'm also a huge sports fan – I grew up in Alabama and I root for the Crimson Tide. But since being here for a few months, I've also embraced athletics at the academy. We have some phenomenal competitors in our cadet intercollegiate programs – watching those folks compete makes me proud to be associated with our academy, as I'm sure it does you – and although I'll let out a "Roll Tide" occasionally, this is my Air Force's Academy, and I'm all about Falcon Pride.
Update on recent negative press
As you know, our mantra of "producing leaders of character" has been under scrutiny. Over the last few weeks, ESPN and ABC news did stories about events that happened 3 years ago. Keep in mind that those who were involved were dealt with appropriately at the time. The stories honed in on the cadet confidential informant program, an OSI investigation known as Operation Gridiron. Particular focus was put on sexual assault and perceived special treatment for the football team, and a culture that provided special rules and privileges and lack of accountability for our football players.
The Superintendent's message during interviews has been consistent all along that we're committed to a culture of commitment and a climate of respect, that the type of negative behavior that was displayed then was unacceptable then, and is certainly unacceptable now.
We're trying to move forward but it seems like we're stuck in the past dealing with some of these old episodes. We take sexual assault very seriously – it will not be tolerated. Fostering a positive climate and one of accountability – whether you're an athlete or not – is one of our top priorities.
You cannot fix a problem without first accepting ownership. We're working harder to control our narrative and get our message out – we set clear expectations for our cadets across the Athletic Department and the Academy at large. Our cadet leadership have taken it upon themselves to correct any type of misbehavior – they do it through a variety of mediums, many of which are cadet generated and cadet led.
I'll name a few of them:
Respect And Character Enrichment program – RACE – began in the Athletic Dept
Cadet Athletes Against Sexual Violence
Mentors in Violence Prevention program, which includes a gender violence prevention seminar to the football team and other men's athletic programs
A Random Act of Kindness program
Football Leadership Council, where player-leaders self police team behavior
Take Back the Night event for Sexual Assault Awareness Month – over 3500 attended
Its On Us campaign, part of the White House's larger campaign to eradicate sexual assault on all college campuses.
We're also focused on expanding our professional ethos for our permanent staff, including our coaches – we feel that if WE lead by example, our cadets will follow.
Our emphasis on character is translating into success on the field as well. This has been an awesome year for the football team – they won with sportsmanship, with honor, and with class – they make us all proud.
It's not just about the wins – our cadet athletes are stepping up to leadership positions across the cadet wing. The spring cadet leadership positions will be peppered with IC athletes: the Cadet Wing Commander, Director of Operations, and 2 of our 4 group commanders will be ICs – from the dance and cheerleading teams, to track – that's huge for us from a leadership perspective.
Our efforts have helped reinforce our culture of commitment and climate of respect across the entire cadet wing and our permanent party, which helps set us apart as a premier institution.
We will not let up, and we will not let you down.
AD Update
Dr. Mueh is retiring in January 2015. In September, we broadly solicited applicants for the AD position, which were screened in October by a 5-member screening panel.
Their recommended applicants met a 3-member interview panel, which just finished up last week. Their final candidates will be interviewed by the Superintendent, who will probably select the new AD in December.
The Vice Athletic Director, Col. Bart Weiss, is retiring, so we're also hiring his replacement.
Bigger USAFA Picture
At the moment, we are hard at work on an Installation Development Plan that is part of our Master Plan, which includes our new Center for Character and Leadership Development. The CCLD, in addition to being an iconic symbol, will be the single focal point for integration of character and leadership development across all levels of the Air Force Academy experience: soft opening of the building in June, and official opening in August 2015.
Our Master Plan also includes plans to revitalize the planetarium for outreach, re-locate the Visitor Center to the North Gate/I-25 interchange, engage visitors at the Association of Graduate's Doolittle Hall, repair and renovate the chapel, and ultimately add an Academy museum.
In the years ahead, you may also see a new state of the art Library and potentially the Air Force's Cyber Center.
Strategic Planning
We are also developing our Strategic Plan in line with the broader Air Force Strategy and our Superintendent's Intent, working to define our dollar and manpower requirements for future years to ensure we're able to sustain our margin of excellence, despite declining budgets.
We are also finishing up a Strategic Communications Plan to improve our national outreach and engagement, including leveraging our 81 AOG chapters across the nation, and we are working on improving our presence on social media, and capitalizing on the cachet of our brand.
So, we're pretty busy, and committed to ensuring we're able to maintain our world class facilities and programs, that we're able to recruit top cadets, and shape them into Air Force Lieutenants with character and commitment. That's our mission.
So, I will leave you with this:
You are a part of our team
Each of you are influencers and Academy representatives in your own right
And we need your help to communicate our Academy's messages, and to increase awareness in your communities.
Again, on behalf of our United States Air Force Academy, I want to thank you for your support of our cadets, our faculty and staff, our leadership, and our mission.
I know this is the Denver Quarterback Club, and I also know that you get it: you understand it's not just about our sports teams… it's about the institution.
Note from Col. Lamberth to Bob Fillmore: