Dr. Hans Mueh, AFA Director of Athletics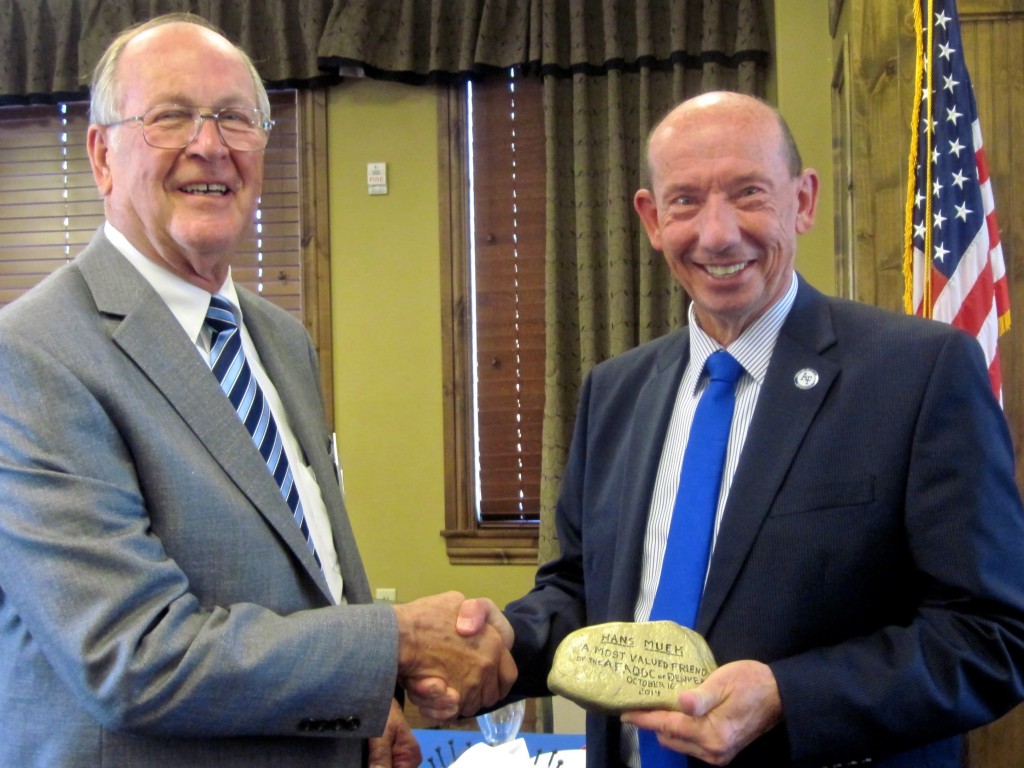 The media: The Air Force Academy is all about integrity, and the stories that keep getting perpetuated are sad and disturbing. We have been defined by 10 cadets out of the 1000 intercollegiate athletes, and the 4000 cadets who make up the Academy; ten cadets who are no longer there – they're gone. They have labeled the Academy as infested with drugs, sexual assaults as rampant, total lack of integrity, faculty giving letter grades to athletes just because they're athletes. These stories keep getting the attention.
IG inspection: (the 900 pound gorilla in the room) Air Force started a new inspection system for all bases. IG on each base inspects, not investigates, all units on the base. Summer Basic Cadet Training was the first, then us (the Athletic Department), the Prep School, the faculty, and then the Commandant.
There is a Five Step grading scheme
1) Outstanding (Never given to any Air Force unit)
2) Highly Effective
3) Effective (99% of all the Air Force units hope to receive this grade)
4) Largely Effective
5) In-Effective or Failure
Our overall score was "Effective".  Given a "Highly Effective" for executing our mission; that's our goal.
Media reports the results as "Air Force Academy receives a C" and "Air Force refuses to release details".
No way to win. You can't FoIA (Freedom of Information Act) the results; gave the media the executive summary, but it wasn't enough for them.
The past ten years has been great, but the past year has tried my patience.  Dr. Mueh then shared a humorous joke to lighten the atmosphere.
Team Captains' Video:  There's a YouTube video that the cadets have put together – Cadet Athletes against Violence. Check it out. Every captain of every team participated. They didn't want to be defined by those 10 bad athletes. They wanted to bring credibility back to their teams. These athletes are filled with leadership and respect; eighteen to twenty-two year olds who are holding each other accountable.
The football team is as healthy as ever. There's a new energy and spirit that they didn't have last year. (Last year, all the team leaders were hurt.) The energy and excitement of the football team has rubbed off on all the other Air Force teams.
Other AFA teams inspired:  The Volleyball team has a new coach. Women's soccer team has 6 freshmen on the team and they are 3rd in their conference. They didn't win a game last year. Men's soccer team has one loss in the past nine games. Cross Country (Men's and Women's) are both in the top three for their divisions. Water polo is hanging in there. Men's basketball, with Dave Pilipovich as coach, has a positive attitude. When Gen. Gould & I decided to hire Dave, we gave him a contract and knew it was the right move.
Women's basketball is tough because there are too many other opportunities for women to get full ride scholarships at other colleges. It makes it tough for military academies to draw quality players; it's a constant battle. Ice hockey has Frank Serratore as the head coach. It took Frank 10 years to figure out how to recruit and get the right players for the Academy. He hand picks every person to be a good fit for the Academy and the military. There's a method there. We have had a phenomenal fall.
Non-profit idea: In 2006 the Board of Visitors presented a non-profit idea: any outside revenue that was generated by or for the Academy had to go into the government's general spending budget and not directly back to the Academy. Establishing a non-profit would change that and allow the Academy to keep the monies collected.
Congressman Lamborn is pushing the last piece of legislation needed to finalize the non-profit. This is much needed, especially due to the cuts from Sequestration. (As of 9/30/2013 – 30 positions were cut.)
Facilities: We're still working on improving the gym facilities for the Inter-collegiate athletes and for all the cadets. Over 1,000 cadets/day use the facilities. The PFT (personal fitness test) is 50% of a cadet's P.E. grade. IN 2014, 100 cadets maxed out the PFT score. In 1966, only one cadet maxed out the PFT score. PFT scores are going up. At the beginning of the year there were about 300 cadets going through RECONDO (Recondition); now there are about 76 cadets.
Thanks to Dr. Mueh: After a question and answer period, Dr. Mueh was thanked for his ten years as the athletic director of the Air Force Academy and for his 52 years of service. He is an example of: Integrity first, Service before self, and Excellence in all we do.
THANKS to Mrs. Patty Daviscourt for writing highlights of Dr. Mueh's talk.