Troy Calhoun Addresses QBC First Luncheon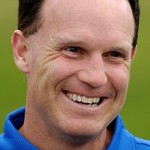 22 Aug 2013:  AFA Falcon Football Head Coach Troy Calhoun addressed a packed room at Valley Country Club for the first Quarterback Club luncheon of the fall season.  He was introduced by 2nd VP Bob Knorr, who observed that in the room, there were 2 quarterbacks who played on the field at Falcon Stadium – Troy in 1988, and Bob Knorr in 2013 – at the Football 101 camp a few weeks ago, Bob played quarterback in the scrimmage.
Troy remarked that everyone is looking forward to seeing what's going to happen this season.  The team has a lot of enthusiasm in practice – going "100 MPH" – trick is for them to go that fast and stay under control.  He expects progress during the year, finishing strong in the 2nd half of the season.  If the team has a positive turnover margin, it significantly increases chances they'll go to a bowl.
The Falcons only have 8 returning starters from last year.  The team has strong "football intellect" – a bright group that quickly grasps what the coaches are teaching them, and a group of skilled players who have improved since last year and are eager to prove themselves this year.
He described how Air Force has the "finest home schedule of any academy" – Colgate was undefeated last year in their league, Utah State was WAC Conference Champion, Boise State #18 in the nation was MWC co-champion with Fresno State and San Diego State, Wyoming and Nevada are always tough games, 3 of the last 4 years, the Navy game has gone into overtime.  Tickets remain one of the best values in NCAA football – reasonable prices, free parking.
Troy mentioned that they're planning for the 2015 season to "remake Falcon Stadium" to take better care of our customers and improve revenue.  Improvements include better amenities (restrooms, e.g.), more convenient concessions, new locker rooms, removing the east bleachers and installing better seats, making the stadium "more intimate" – practical improvements with "class" – not outrageously costly – recognizing that the stadium also hosts major activities, like Cadet Wing graduation.  Upgrades will be funded by private funds.
He described the special quality a recruit needs to have to attend the Academy – quite different from other schools – must be an officer candidate, have pride in serving his/her country as an AF 2nd Lt, and must have character without cutting corners – will represent the Academy 24/7.
Sequestration has "been a bear" – staff has forced days off, food service reduced which affected the team in Jack's Valley – lost more weight than desired – reduced the length of training in Jack's Valley, faculty cutbacks, etc.
Regarding Thursday and Friday night games and TBA start times – focus must be towards the school – Air Force is not a "sports entertainment" school.  ESPN can wait until 12 days before a game to announce TBA game start times.  Every game will be on national TV, which means a lot to the family & friends of players who can watch games across the country.
In concluding, he reflected on the team graduates who are in significant leadership and technical roles all around the world – "the country is lucky to benefit from service of AFA graduates".
He sincerely thanked Quarterback Club members for their support not only to football, but all AFA sports – it means a lot to the cadets to have fans come watch their games / matches.  The Quarterback Club of Denver is "answering the call"!